Clients hire the attorney, not the firm.
That's why we want to introduce you to some of the incredibly talented attorneys making GCSolutions one of Womble Bond Dickinson's most innovative and successful client services.
GCSolutions empowers legal departments to operate more efficiently and effectively by providing Big Law resources at alternative pricing and by attracting top talent by offering a flexible business model free of partnership demands.
That's exactly what Tiffany Davis was looking for when she joined GCSolutions in 2018. Coming from a boutique South Carolina firm where her practice focused on corporate, real estate, and intellectual property matters, Tiffany wanted a position where she could continue to develop professionally but spend more time with her three kids, Beau, Knox, and Lily.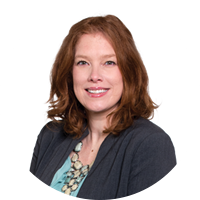 WBD: What are you working on right now?
Tiffany: Most of my time is spent working on a secondment with [a major clothing manufacturer's] legal department. I also have the opportunity to support small businesses with their day-to-day legal needs. It's truly rewarding to see the excitement and hard work that goes into starting a new business or building an existing one. I am privileged to be a part of that process.
WBD: What attracted you to GCSolutions?
Tiffany: I have always loved work, especially legal work. But, after having my first child, I began to appreciate the importance of appropriately balancing work and family commitments. I began to look for a non-traditional legal career.
I learned about GCSolutions through the Career Services Department at my alma mater. I was fortunate enough to have been given the opportunity to interview for the position. During my interview, I met Dean Rutley and Jaime Francis [GCSolutions founders]. Their passion for this new business product and the uniqueness of the business model was palpable. I knew I wanted to be a part of their team and I haven't looked back since.
WBD: What's an average work week look like for you?
Tiffany: Over the past seven months, I have had the opportunity to work almost exclusively with [a major clothing manufacturer's] legal department. I have assisted with day-to-day tasks as well as supporting contract review efforts associated with its recent spinoff company. Although the past few months have been incredibly busy, the work has been extremely rewarding.
WBD: What's been the best part of working for GCSolutions?
Tiffany: Working for GCS has given me the opportunity to balance two very important parts of my life: (i) my family, which means everything to me; and (ii) the career that I have worked hard to build and sincerely love. Plus, my dog Ollie (aka my paralegal) loves that I am able to work remotely!
I now have the opportunity to take part in the little things that we often take for granted – making breakfast for the kids, playing outside, taking the dogs for walks, etc. I have also started a vegetable garden. Although the only thing I have been able to grow are jalapeños peppers, I have enjoyed this new hobby.
Professionally speaking, I believe I am a better lawyer because of GCSolutions. The business model and our leadership team promote the concept of flexibility in the workplace. We are all here because we love to work. For many lawyers, we love to work too much and that can lead to a professional burnout. The leadership team does a great job of encouraging us to better balance work and life commitments. When we are balanced, we are better for our clients.
WBD: What has your experience with GCSolutions clients been like?
Tiffany: I have been pleasantly surprised by the quality of clients who I have had an opportunity to work with. My favorite part of the job is learning about my clients' businesses – who are they, what they do, what's important to them. So far, I have been able to work with interesting and all around good people.
WBD: If you could go back in time and ply your skills in any legal matter, what would it be and why?
Tiffany: My favorite part about my job is learning about my clients. I also love anything Disney. So I would love to serve as one of Walt Disney's early advisors. It would have been quite the opportunity to see the beginnings of one of the largest companies in the world through the eyes of one of the world's most innovative figures.
WBD: Of all your professional accomplishments, which one are you most proud of?
Tiffany: My dad is as cheap as they come. He was excited about the prospect of having a lawyer in the family because he wouldn't have to pay for legal services anymore. Within a couple of months of graduating school and passing the bar exam, my dad asked me to file a series of patent applications for spinal implants that he developed. I did not want to disappoint my dad, so I signed up to take the patent bar, passed and then began the process of learning how to prepare a patent application. Little did I know that was not the end of my engagement.
My dad then decided to sell his patents. He asked me to help close the deal. As a young lawyer, this was a daunting task. Over the course of about three years and after hours and hours of time spent learning what to do and how to do it, I successfully prosecuted two patent applications and closed my first big deal. To this day, receiving the USPTO's letter saying my patent applications were accepted and closing that deal is still one of my proudest moments (and I even got paid).