Good lawyers can take many different career paths.
Monica Holiday honed her skills for more than 20 years as both outside and in-house counsel to corporate clients, who trusted her to solve a range of high-stakes problems. Family and her career are both important to Monica, and at GCSolutions, she can focus on both. GCSolutions attorneys enjoy career flexibility and challenging work, while GCSolutions clients get access to experienced, skilled lawyers at cost-effective pricing.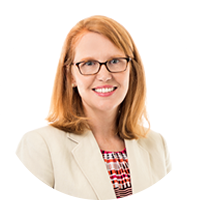 WBD: What is your role on the GCSolutions team?
Monica: My background includes 10 years of in-house experience with a financial services company followed by over 5 years with a national financial services trade association. So my work at GCSolutions primarily involves helping companies in the financial services sector but I also get to help with other general corporate work for all kinds of clients, big and small. I provide financial services companies with guidance on consumer lending issues, regulatory reporting and compliance, and state licensing issues. Some clients call me for help with special projects, while others need help with more day-to-day matters. It's a nice mix.
WBD: What attracted you to GCSolutions?
Monica: I'd taken several years off when my children were little. I was looking to return to practice, but maintain a work-life balance. I'd worked with Womble Bond Dickinson Partner Sterling Laney from when I was in-house, so I already had a high opinion of the firm. GCSolutions was just getting started and I thought that could be the perfect fit. This role gives me the flexibility to be with my children, but I get to continue my legal career and do challenging, interesting work.
WBD: So what are your favorite aspects of the job?
Monica: I enjoy taking on challenging projects. I've practiced both in-house and at a law firm, and this feels like a happy medium. I get to solve day-to-day problems, like I did in-house, but I also get to work with other lawyers, like I would at a law firm. While I get to work with a number of different clients, I've enjoyed getting to work with some of the same clients on a regular basis and building those relationships.
WBD: So what got you interested in a legal career?
Monica: I grew up in Nashville—my mom was a nurse and my father was a professional musician. He was a country guitar player who worked with Johnny Cash, Tex Ritter, George Jones, and lot of other famous country musicians. He did session work, tours, the Grand Ole Opry—it was an interesting childhood! But there weren't any lawyers in the family. I'd always enjoyed writing as well as getting into the details of a project and really understanding it in-depth. Law school jumped out as something that combined those interests.
WBD: Before coming to GCSolutions, what were some of your best experiences as an attorney?
Monica: I worked with a start-up financial services company as in house counsel. It was incredibly rewarding to help that company grow. In a start-up environment, everybody has to be focused on the overall company's business goals—you can't just focus on your own work, you have to work as a team to make smart business decisions. That was a great learning experience that continues to help me to this day. The company kept growing and I was part of the team that helped take it public. That was an incredibly rewarding experience.