The space where law and business intersect.
John Jaye loves working in the space where law and business intersect. He leverages his approximately 20 years of legal practice and his experience as a business owner (with a first-hand understanding of navigating operational logistics, working with vendors and employees, and keeping customers satisfied) to provide strategic counsel and corporate advice to clients as Senior Division Counsel at Womble Bond Dickinson's GCSolutions.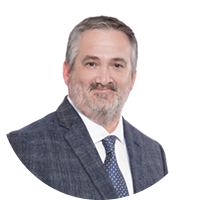 WBD: What is your day-to-day practice like at GCSolutions?
John: I work directly with clients in an "outside general counsel" role, guiding them through a wide range of corporate, governance, and securities issues. I also work with companies on strategic transactions, including mergers and acquisitions.
In addition, I oversee and execute many of the leadership and operational functions of the GCSolutions team, such as client intake and work assignments. Our goal is to promote and grow the GCSolutions team by putting our skills to the test every day for our clients.
WBD: What attracted you to GCSolutions?
John: GCSolutions is a new service model so it's a great combination of law and entrepreneurship. I was a partner at a law firm in Charlotte and enjoyed supporting corporate clients, whether it was an acquisition or a run-of-the-mill disclosure question. I have also been involved in entrepreneurship, including purchasing three different failing businesses, combining them into a streamlined enterprise, and selling the business when the market was right. I have enjoyed my practice at GCSolutions because it allows me to practice law in a new way while building and growing a new legal service model for the firm.
WBD: In your opinion, why should a company consider GCSolutions for their legal needs?
John: We are able to provide clients with an affordable option for day-to-day corporate and transactional work with the standard of quality clients expect from an AmLaw100 firm. If they are using Womble Bond Dickinson for larger matters, they are able to stay with us and keep that valuable continuity of service. That creates a one-stop-shop with great team members at highly competitive prices.
WBD: What are some of your favorite parts of the job?
John: I like building and recruiting. We have a fantastic brand and with GCSolutions we offer a completely different model for clients than the traditional outside law firm. It allows us to recruit great people to our team. I think clients are excited about it and I'm excited to talk about it.
WBD: What is the best advice you've ever received in your career?
John: That's a tough question, because I had a lot of great teachers early in my career. But I come back to one piece of advice over and over again. I began my practice in Chicago and late one night, a fellow associate of mine was distraught because a serious issue had come up and he was worried that he would be blamed for the misstep. The partner already knew that the associate was not to blame, so the partner told him, "It's not your fault, but it is your problem." That has stuck with me throughout the years, both professionally and personally. As an attorney, you are a problem-solver for your client, no matter the origin or blame. That partner got us focused on the solution and that's where you add the most value.